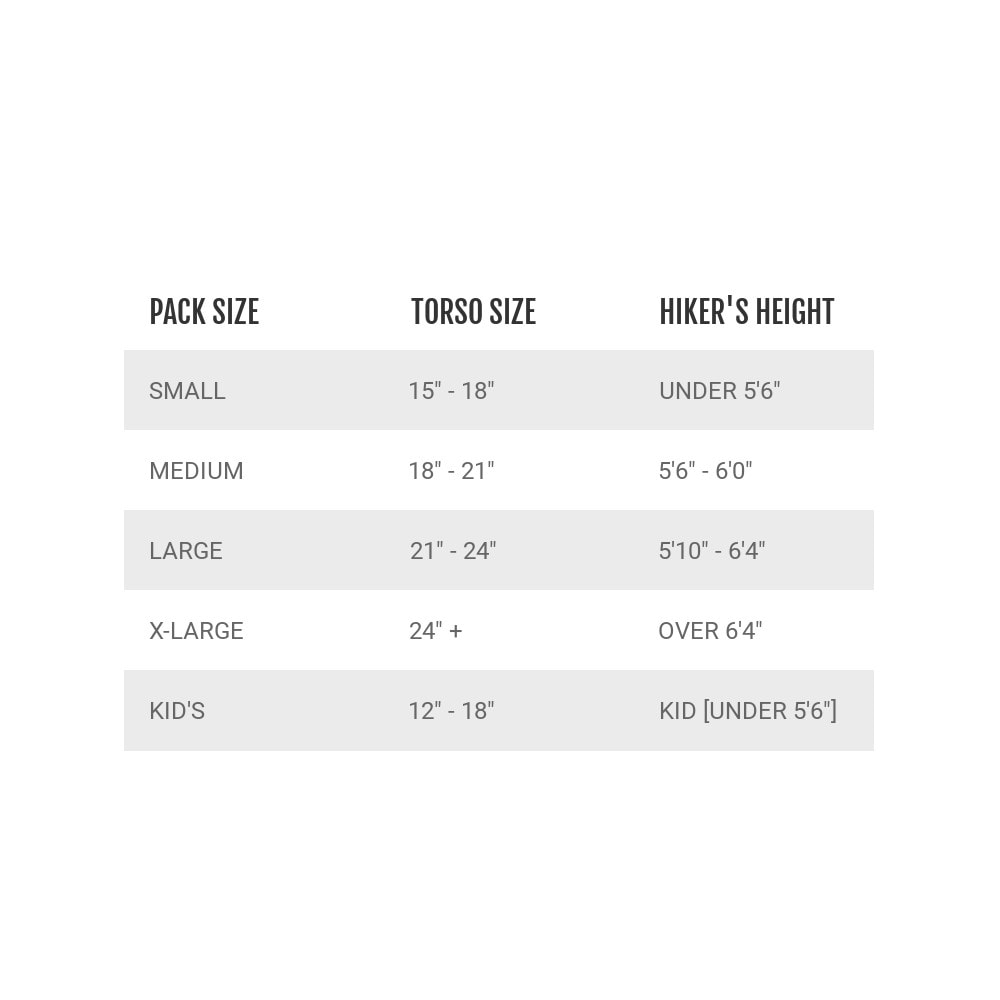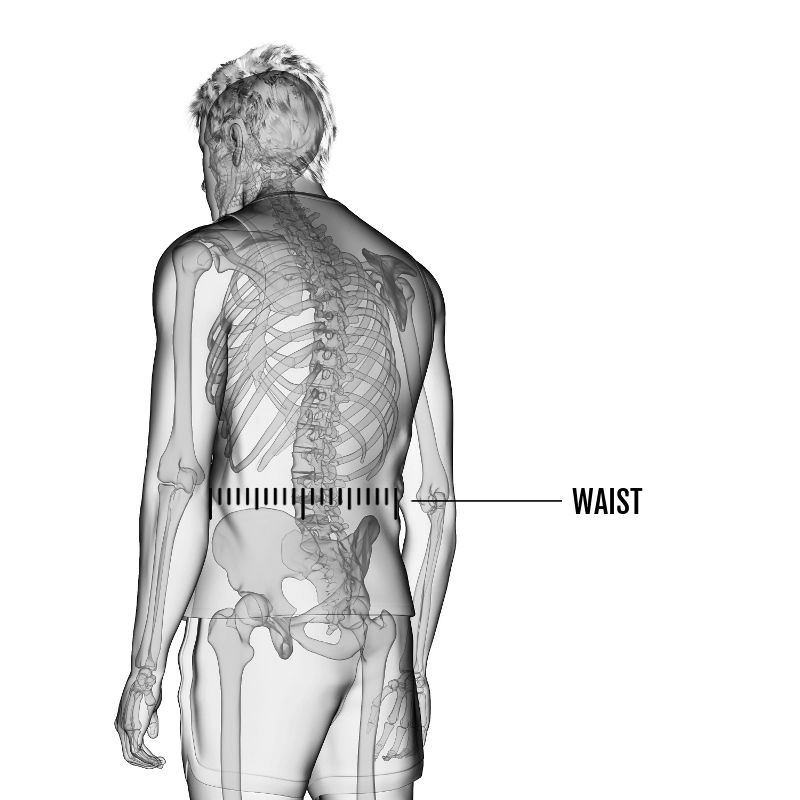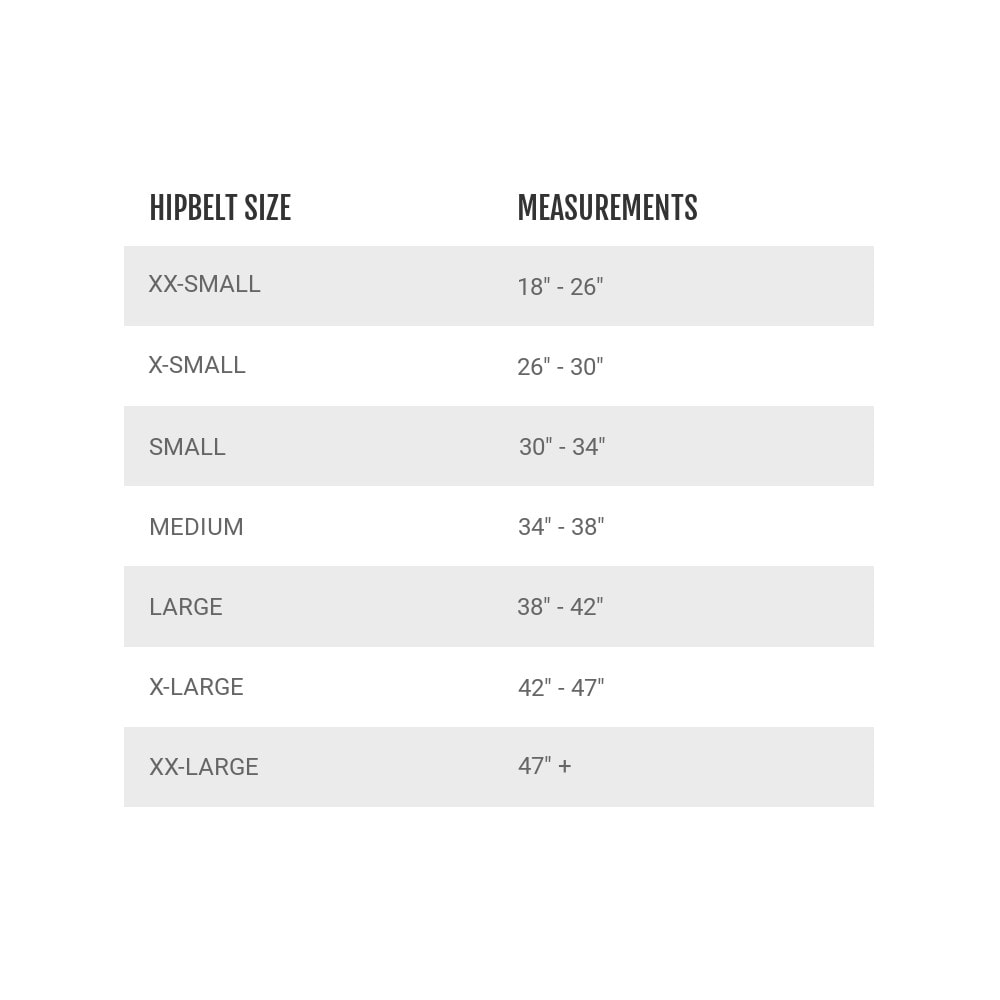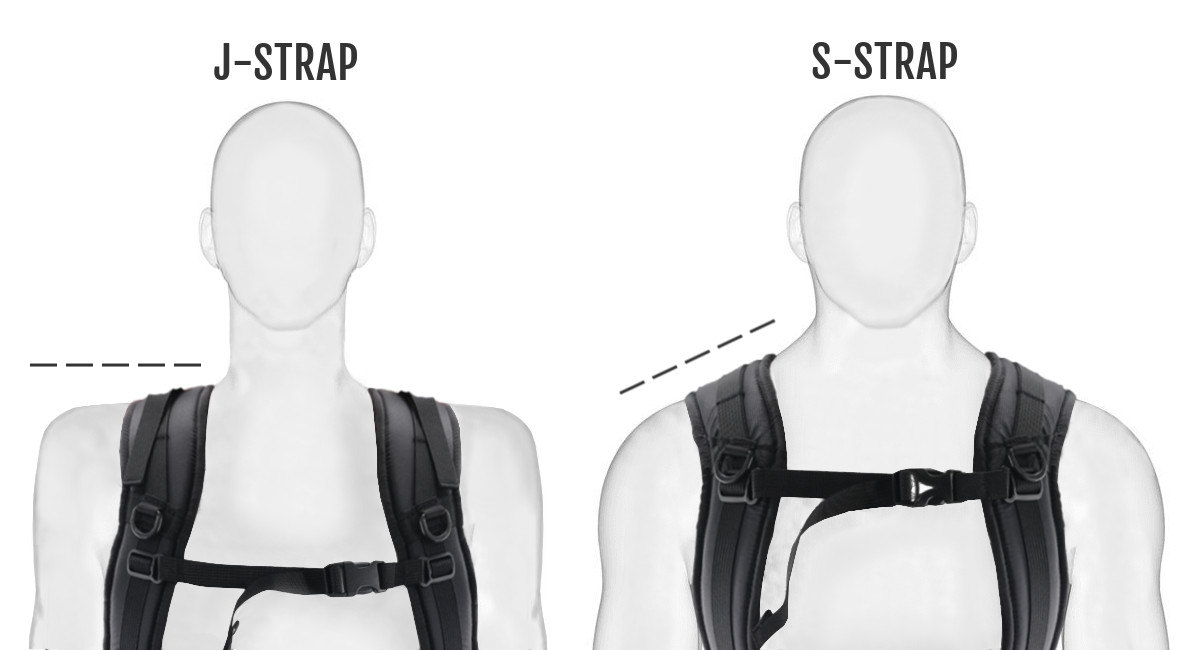 Standing upright, tilt your chin to your chest.
Locate your C7 Vertabra—the large lump at the base of your neck.
With flexible tape, measure down the length and natural curvature of your spine to your iliac crest/ the top of your hipbone.
This measurement in inches is your torso length.
TIP: If you're between 2 sizes, order the smaller size. Still not sure? Contact us.
We've found most people in these height ranges fall into these torso/pack sizes. That being said, it is always best to measure your torso using the guide above.
If you have questions, or your torso size doesn't seem to make sense for your height, please contact us.
Use the following method to determine your hipbelt inches, then head to Step 4 to see the hipbelt size you need.
MEN
Pant Waist Size + 2".
WOMEN
CURVY HIPS: Smallest part of your waist + 5".
STRAIGHT HIPS: Smallest part of your waist + 3".
KIDS
Smallest Part of waist + 2".
Find the hipbelt measurement you calculated in Step 3 on the chart. That will be your hipbelt size.
TIP: If you are on the outer edge of a size, order the larger size. [ Ex: If you are 38", you will notice 38" is the last number of the Medium Hipbelt and the first number of the Large Hipbelt. You would want to order a Large.]
The downward slope of your shoulder profile usually determines strap preference. You can assess your shoulder slope profile by looking in a mirror or having a friend look at the angle of your shoulder from the base of your neck to your shoulder point. 
If there is relatively little or no downward slope, you have what is referred to as flat or squared shoulders.
If there is a noticeable downward slope, you have what is referred to as standard or sloping shoulders.
J STRAPS
J-straps are the traditional straight straps. They are best suited for people with flat or square shoulders, as their flat shape provides better surface contact and less rub.
S STRAPS
S-straps contour body curves. They are best suited for people with standard or sloping shoulders, as their contoured shape better hugs your shoulder slope.
TIP: If you have a short torso but a larger upper body, you may need a slightly longer strap. If you are very large in the upper body, you might need XL shoulder straps. Contact us, and we would be happy to make these customizations so your pack is comfortable and fits well.

MADE IN THE U.S.A.
Say hello to the Ultra Catalyst; the same Catalyst you know and love, only stronger and lighter than ever. Purposefully constructed of Ultra 400 in high abrasion areas and Ultra 200 in low abrasion areas, we've selected a fabric matrix that maximizes durability while keeping the pack ultralight At only 38.9 ounces, it's a full 5.5 ounces lighter than a Robic Catalyst!* (* Based on a medium torso w/ medium hipbelt.)
In our commitment to making quality, durable backpacks that last a lifetime, we've been hesitant to build packs out of many popular ultralight fabrics. Why Ultra? 15x stronger than steel by weight, twice as abrasion resistant as standard 420D nylon, and waterproof to 200 psi, we've finally found an ultralight fabric that matches our high standards. Note that to maximize water resistance of the ULTRA Catalyst, these packs do not have bladder hose ports.
The Ultra Catalyst was built to carry loads of up to 40 pounds; it will haul a bear canister horizontally or fit your fishing, climbing, or photo gear. An internal frame with a twin stay framesheet, comfy padded hipbelt, and contoured shoulder straps make for all-day comfort even when loaded down. Front mesh pocket, dual hipbelt pockets, and Ultra 400 adjustable side pockets make it easy to stay organized whether you're on a thru or just out for the weekend. It can even be checked as baggage on a plane! No wonder the Catalyst has consistently been among the top 5 most popular packs on the Pacific Crest and Appalachian Trails!
Opt to have the standard front stretch mesh replaced with stronger, more abrasion-resistant Dyneema stretch mesh for [+$20]. Also, choose to go logo-free or have the ULA logo embroidered on the mesh [FREE.]
MATERIAL: Challenge ULTRA™
COLOR(S): Graphite Black/Silverado Grey
WEIGHT: 38.9 OZ | 1,102.8 GM
VOLUME: 4,700 CU IN | 75 L
MAX LOAD: 40 LBS | 18 KG
The Ultra 24 Catalyst was built to carry loads of up to 40 pounds; it will haul a bear canister horizontally or fit your fishing, climbing, or photo gear.
ULTRA 400 + ULTRA 200 Fabric
ULTRA Hipbelt Pockets w/ YKK Waterproof Zippers
Adjustable ULTRA Side Pockets
Optional Dyneema Stretch Mesh Front Pocket
Internal Frame
Twin Stay Framesheet
NO Water Hose Port for Max Water Resistance
Rolltop Closure
Side/Top Compression Straps
Ice Axe/Trekking Pole Retention Loops
Sternum Strap
Contoured Shoulder Straps
Front Shock Cord
Optional ULA Logo
CAPACITY
REC. MAX LOAD: SUB 40 LBS
REC. BASE WEIGHT: SUB 20 LBS
PACK VOLUME
TOTAL VOLUME: 4,700 CU IN | 75 L
BREAKDOWN (CU IN):
Main Body: 2,600
Front Mesh Pocket: 600
Left Side Mesh Pocket: 350
Right Side Mesh Pocket: 350
Extension Collar: 600
Left Hipbelt Pocket: 100
Right Hipbelt Pocket: 100
Q: WHY ULTRA™?
A: ULTRA is 15x stronger than steel by weight, twice as abrasion resistant as standard 420D nylon, and waterproof to 200 psi. Ultra is the ultimate in ultralight fabric, with the strength to go the distance in the harshest environments.
ULTRA fabric lasts longer, absorbs 80% less moisture, and has better UV resistance and color retention than traditional laminated nylon.
ULTRA is the only durable, waterproof pack fabric made from 100% recycled polyester! Every yard contains over 20 plastic bottles and saves over one pound of carbon emissions compared to standard pack fabric.
Q: DYNEEMA® STRETCH MESH VS STANDARD MESH?
A: While we've chosen our standard stretch mesh for its abrasion resistance and durability, Dyneema® Stretch Mesh is built for maximum abrasion and cut resistance. A technical fabric, Dyneema® Stretch Mesh is a 4-way stretch woven ripstop combining an ultra High-Tenacity Nylon 6.6 base weave with Dyneema® grid reinforcement.
Q: WHAT IS THE 'TWIN STAY' FRAMESHEET?
A: The standard framesheet is comprised of a very dense piece of foam and two ½ aluminum stays which are positioned in a 'V' shape. The stays can be bent to give the framesheet a specific contour to your spinal curve. The standard, twin stay framesheet is ideal for loads between 32-40 lbs. It offers plenty of stability and load control within that load range and is well suited for on or off trail hiking.
Q: CAN A BEAR CANISTER FIT IN THE CATALYST?
A: Yes. Every bear canister on the market other than the Bearikade Expedition will fit into the Catalyst horizontally. Keep in mind it is best to pack something between the hard sided canister and the bottom of the pack.
Q: WHERE DO I STRAP MY SLEEPING PAD?
A: If you are using an inflatable pad, we recommended storing it in the interior of the pack to avoid punctures. A foam pad can easily be secured beneath the top compression strap that goes over the top of the pack or beneath the front shock cord compression. Although not necessary for optimum performance, positioning your sleeping pad into the interior of the Catalyst (against the back-panel) is also a good solution.
Alternately, you can build your own pack and add Bottom Straps, or a top Y-strap to carry your pad externally.
Q: CAN A WATER BOTTLE FIT IN THE SIDE POCKETS?
A: Each side pocket can accommodate two 1-Liter 'Big Slam' style bottles. A Nalgene-style bottle will also fit, but in your quest to lighten up, that should have been replaced a long time ago! In general most people can reach back and retrieve a bottle, drink, and return the bottle to the pocket without removing the pack. The top of the side pockets are angled for easier access, and adjust singlehandedly with a cord lock and internal bungee to open and close.
Q: HOW DOES THE TOP OF THE PACK STAY CLOSED?
A: The top of the Catalyst closes like a dry bag (also known as a rolltop) very similar to what river runners use to create a water resistant seal for their gear bags. The back of the collar is slightly taller than the front. Once you are packed, the collar can be rolled down upon itself to effectively create a barrier to water penetration. Once rolled, each side of the collar can be buckled to the sides of the pack or the two yellow buckles on the top can also be fastened to each other.
As for access, once the collar is rolled and fastened shut, you would need to unbuckle the compression straps and unroll the collar to access the inside of the pack. However, the roll-top only needs to be rolled shut when the weather dictates. If the sky is dry, the collar can simply be folded forward. Vertical compression can still be achieved by buckling the collar to the sides of the pack.
TECHNICAL FABRICS
ULTRA™ represents a new paradigm in durability and weight. Constructed with an optimal blend of UHMWPE (Ultra-high-molecular-weight polyethylene) & high-tenacity polyester, the tight weave is laminated with an eco-friendly adhesive to Challenge RUV™ film. The result is an incredibly strong, lightweight, and waterproof to 200 psi textile.
ULTRA™ is the ultimate in ultralight pack fabric, with the strength to go the distance in the most demanding environments.
ULTRA™ 200
200D Ultra PE is woven and laminated to recycled, waterproof RUV™ film. At just 3.5oz/yd2, it exceeds the technical properties of any similar weight fabric available on Earth. Tear Strength: Warp: 103.1 lb / Fill 133.2 lb. Abrasion Resistance: 4,400 cycles.

ULTRA™ 400
A high modulus pack fabric, ULTRA 400, is constructed of a 400d Ultra PE (similar to Dyneema®) with 0.5 mil RUV™ film backing. It is 20% lighter and four times as abrasion-resistant than other 400d U-PE fabrics. Weight: 4.65 oz/yd², 158 gsm. Tear Strength: Warp: 187.7 lb, Fill 161.1 lb. Abrasion Resistance: 8,800 cycles.
MORE FROM THE ULA PACK LINE
ULTRALIGHT PACKS FOR EVERY ADVENTURE