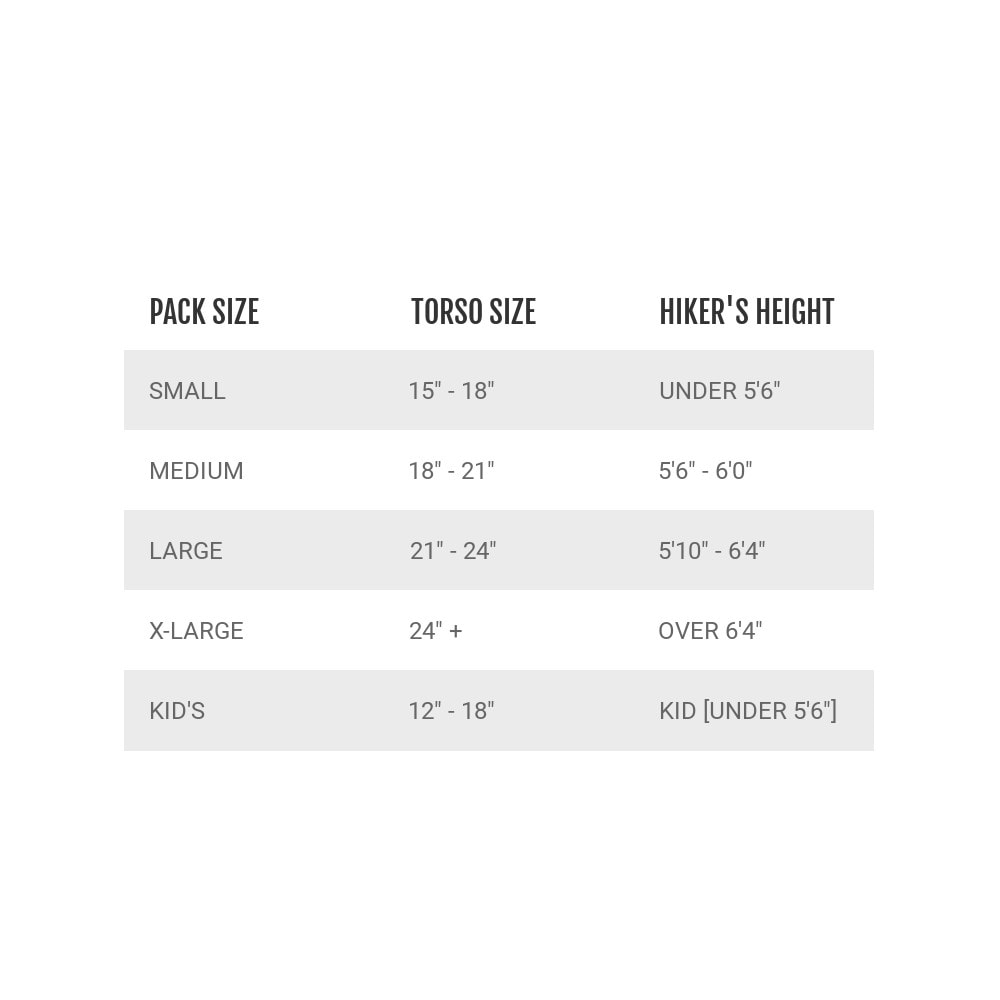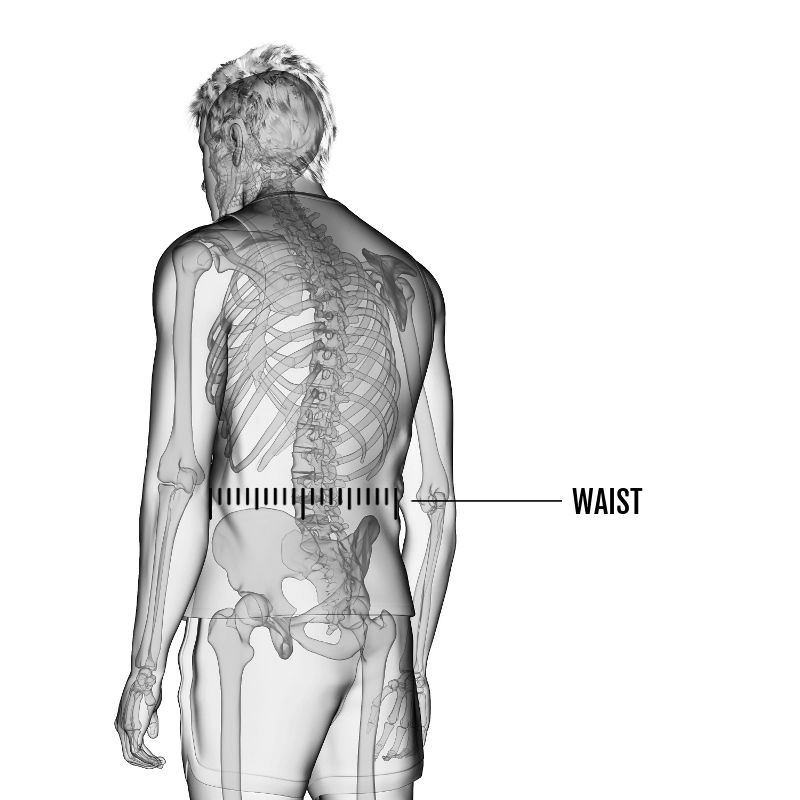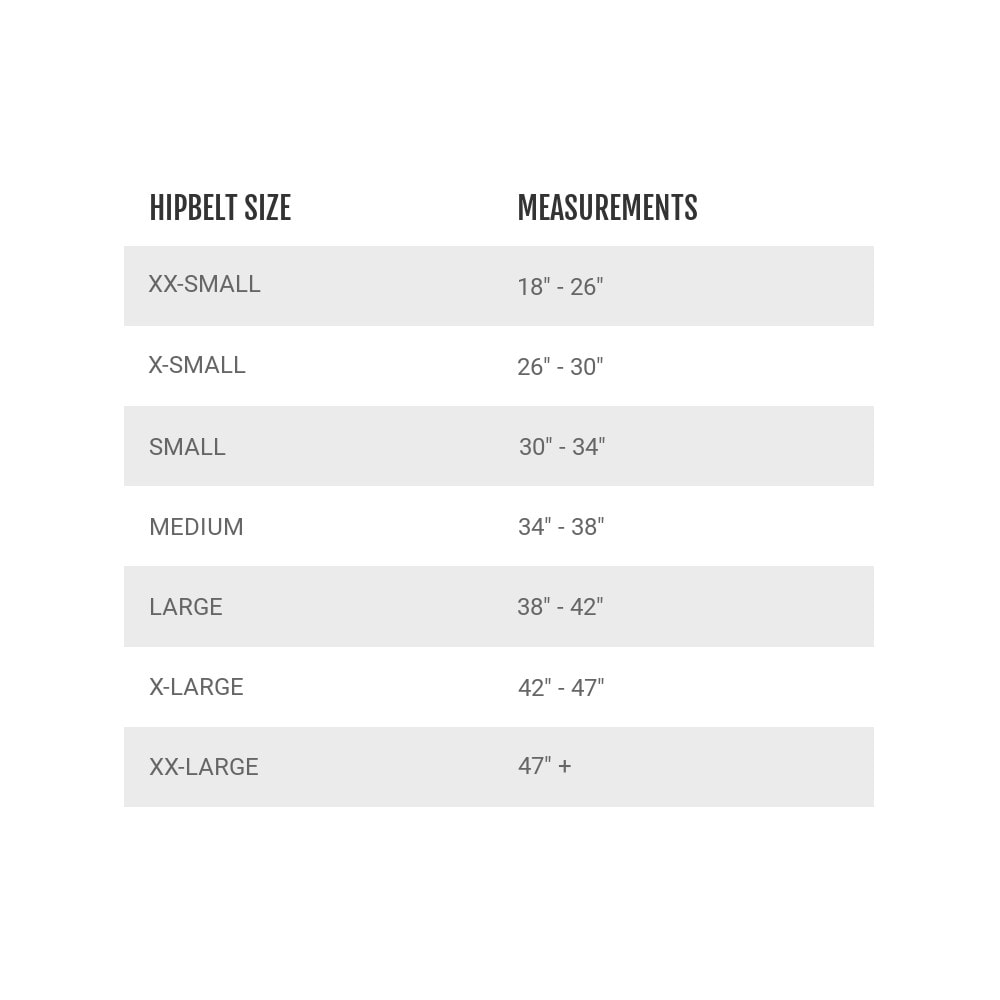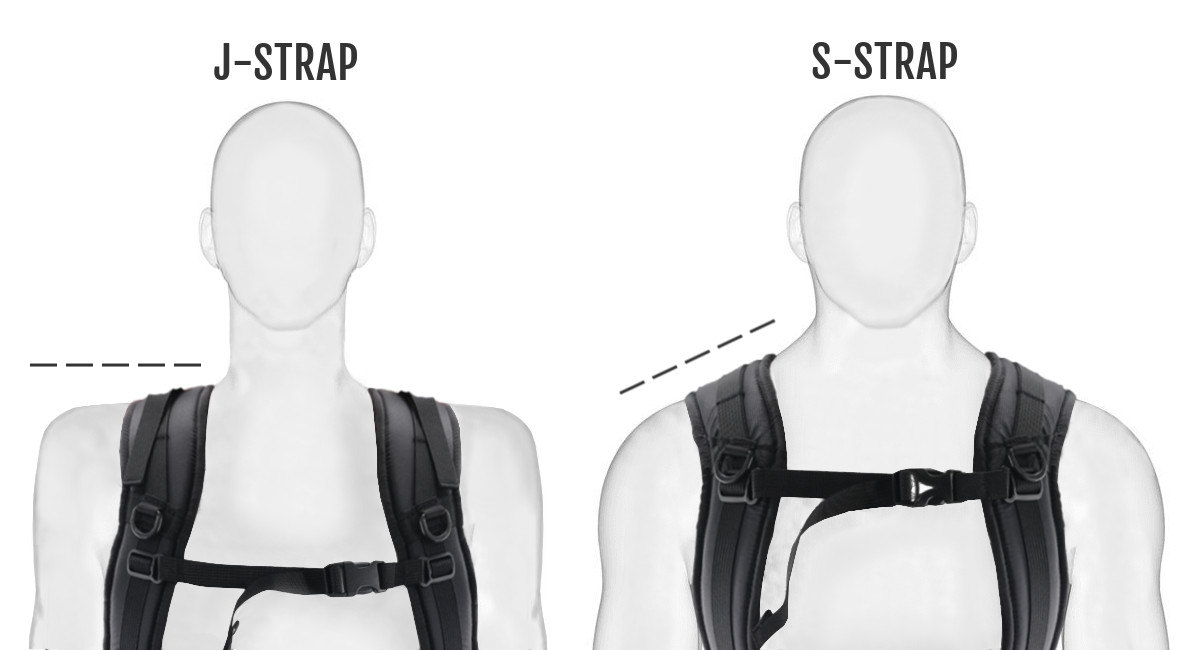 Standing upright, tilt your chin to your chest.
Locate your C7 Vertabra—the large lump at the base of your neck.
With flexible tape, measure down the length and natural curvature of your spine to your iliac crest/ the top of your hipbone.
This measurement in inches is your torso length.
TIP: If you're between 2 sizes, order the smaller size. Still not sure? Contact us.
We've found most people in these height ranges fall into these torso/pack sizes. That being said, it is always best to measure your torso using the guide above.
If you have questions, or your torso size doesn't seem to make sense for your height, please contact us.
Use the following method to determine your hipbelt inches, then head to Step 4 to see the hipbelt size you need.
MEN
Pant Waist Size + 2".
WOMEN
CURVY HIPS: Smallest part of your waist + 5".
STRAIGHT HIPS: Smallest part of your waist + 3".
KIDS
Smallest Part of waist + 2".
Find the hipbelt measurement you calculated in Step 3 on the chart. That will be your hipbelt size.
TIP: If you are on the outer edge of a size, order the larger size. [ Ex: If you are 38", you will notice 38" is the last number of the Medium Hipbelt and the first number of the Large Hipbelt. You would want to order a Large.]
The downward slope of your shoulder profile usually determines strap preference. You can assess your shoulder slope profile by looking in a mirror or having a friend look at the angle of your shoulder from the base of your neck to your shoulder point. 
If there is relatively little or no downward slope, you have what is referred to as flat or squared shoulders.
If there is a noticeable downward slope, you have what is referred to as standard or sloping shoulders.
J STRAPS
J-straps are the traditional straight straps. They are best suited for people with flat or square shoulders, as their flat shape provides better surface contact and less rub.
S STRAPS
S-straps contour body curves. They are best suited for people with standard or sloping shoulders, as their contoured shape better hugs your shoulder slope.
TIP: If you have a short torso but a larger upper body, you may need a slightly longer strap. If you are very large in the upper body, you might need XL shoulder straps. Contact us, and we would be happy to make these customizations so your pack is comfortable and fits well.

MADE IN THE U.S.A.
The ULA Kid's Circuit is exactly like the adult Circuit, but kid-sized! The 12″ to 18″ adjustable harness system will grow until your little hiker's torso fits into an adult Circuit. With a removable/replaceable hipbelt, the hipbelt sizing is endless. Larger sized replacement hip belts can be purchased as needed from our Parts Shop. The youngest person ever to backpack all 2,660 miles of the Pacific Crest Trail was carrying a ULA Kid's Circuit!
Weighing in at just over two pounds, we don't think there's a pack out there that can compare to the load carrying capabilities, comfort, and durability of the Circuit pack. The ULA Kid's Circuit pack utilizes a 1.2 oz carbon fiber and Delrin suspension hoop in conjunction with a dense internal foam frame and a single aluminum stay for excellent back panel support, maximum load control, weight transfer, and pack rigidity without limiting their range of movement. The Kid's Circuit is shipped with the adjustable torso pre-configured to your smallies torso size, so you don't need to worry about getting that "perfect fit."
WEIGHT: 36.6 OZ | 1,038 GM
KID'S CIRCUIT [WEIGHT BY SIZE | OZ]

VOLUME: 4,200 CU IN | 68 L
MAX LOAD: 35 LBS | 16 KG
The Kids Circuit is exactly like the adult Circuit, but kid-sized! The 12″ to 18″ adjustable harness system will grow until your little hiker's torso fits into an adult Circuit.
Internal Suspension Hoop
Padded Backpanel
Contoured Shoulder Straps
Front Shock Cord
Front Mesh Pocket
Dual Hipbelt Pockets
400 Robic Adjustable Side Pockets
Rolltop Closure
Side/Top Compression Straps
Ice Axe/Pole Retention Loops
Sternum Strap
ULA  400 Robic Bottom Panel
Single Aluminum Stay
CAPACITY
REC. MAX LOAD: SUB 35 LBS
REC. BASE WEIGHT: SUB 15 LBS
PACK VOLUME
TOTAL VOLUME: 4,200 CU IN | 68 L
BREAKDOWN (CU IN):
Main Body: 2,400
Front Mesh Pocket: 400
Left Side Pocket: 400
Right Side Pocket: 400
Extension Collar: 500
Left Hipbelt Pocket: 100
Right Hipbelt Pocket: 100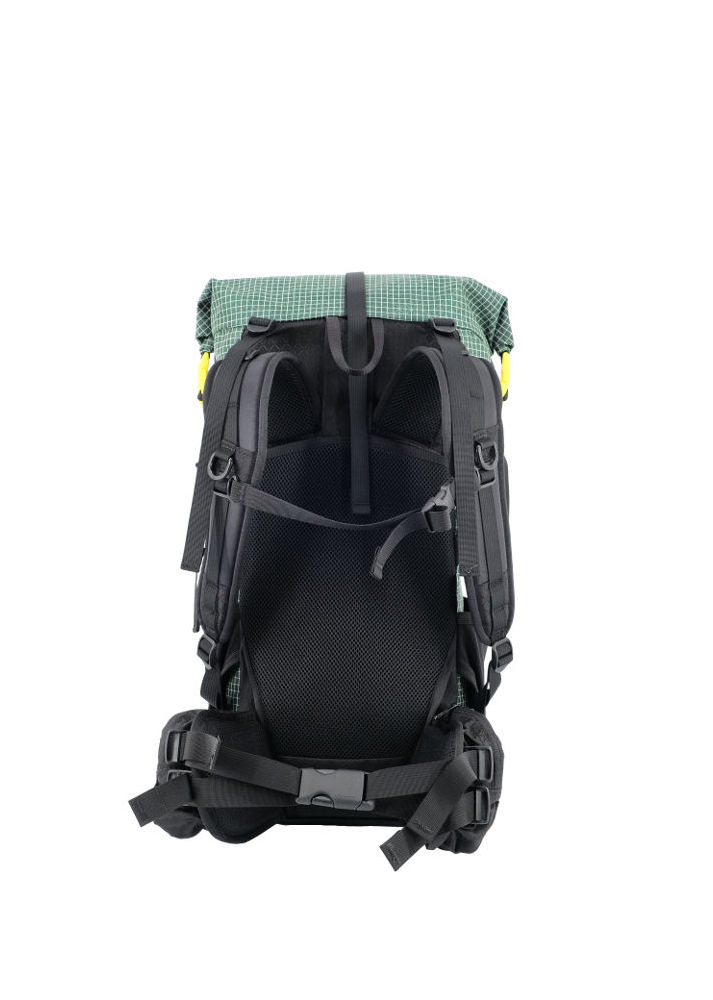 Q: WHAT IS A SUSPENSION HOOP?
A: The suspension hoop used in the Kid's Circuit is our minimal solution to transferring load between shoulder and hip. If you imagine an upside 'U' you get a sense of how the hoop is positioned and how it functions. The upper arch of the 'U' ties into the shoulder straps, while each leg of the 'U' ties into the hipbelt. These points of contact allow for a range of suspension flexibility while being rigid enough to support loads up to 30 lbs. In addition, because the suspension is located on the periphery of the pack body, and the back-panel is stiffened slightly with dual density foam, the result is a pack that can handle the load but does not dictate your child's movements — but rather responds to how they move. 
Q: WHERE DO I STRAP MY CHILD'S SLEEPING PAD?
A: If your child is using an inflatable pad, we recommended storing it in the interior of the pack to avoid punctures. A foam pad can easily be secured beneath the top compression strap that goes over the top of the pack or beneath the front shock cord compression. Although not necessary for optimum performance, positioning the sleeping pad into the interior of the Spark (against the back-panel) is also a good solution.
Q: CAN A WATER BOTTLE FIT IN THE SIDE POCKETS?
A: Each side pocket can accommodate two 1-Liter 'Big Slam' style bottles. In general most kids can reach back and retrieve a bottle, drink, and return the bottle to the pocket without removing the pack. The top of the side pockets are angled for easier access.
Q: HOW DOES THE TOP OF THE PACK STAY CLOSED?
A: The top of the pack closes like a dry bag (also known as a rolltop) very similar to what river runners use to create a water resistant seal for their gear bags. The back of the collar is slightly taller than the front. Once you are packed, the collar can be rolled down upon itself to effectively create a barrier to water penetration. Once rolled, each side of the collar can be buckled to the sides of the pack or the two yellow buckles on the top can also be fastened to each other.
As for access, once the collar is rolled and fastened shut, you would need to unbuckle the compression straps and unroll the collar to access the inside of the pack. However, the roll-top only needs to be rolled shut when the weather dictates. If the sky is dry, the collar can simply be folded forward. Vertical compression can still be achieved by buckling the collar to the sides of the pack.
TECHNICAL FABRICS
ULA 400 ROBIC
…the toughest standard fabric we've ever seen. Highly tear and abbrassion resistant, reinforced with a ripstop weave to increase tear strength and stitch holding capabilities. 100% Robic Nylon fabric with three-pass Teflon DWR and a three-pass PU Coating, making it highly water resistant.
MORE FROM THE ULA PACK LINE
ULTRALIGHT PACKS FOR EVERY ADVENTURE